Team Left Hand is a group of employees and friends dedicated to solving the riddle that is Multiple Sclerosis. Our Carolinas team, our first outside of Colorado, has been doing our part at the Bike MS Breakaway to the Beach since 2013. After years of being on the coast the ride is being revamped  - more details to come as soon as we are able to share!
Even though we don't have an official ride this calendar year, that won't stop us from doing whatever it takes to make MS stand for Mystery Solved. Our 2018 Carolinas Team will continue to ride bikes, raise funds and #crushMS, so we hope you'll join us as a rider, a virtual cyclist or join our ever-expanding team of volunteers to raise fund and awareness for the millions of people around the world that are fighting the disease today.
---
Carolinas Team Captain 
NC: Ron Brinson
SC: Josh Beeby
Team Left Hand Coordinator
Sara Barfoot
Donate
Contact Carolinas Team Captain

Find the Training Rides & Events Schedule and Alerts, Ride with GPS, and so much more!
Download the app from the App Store or Google play, then Search "Team Left Hand" and select "Team Left Hand Carolinas".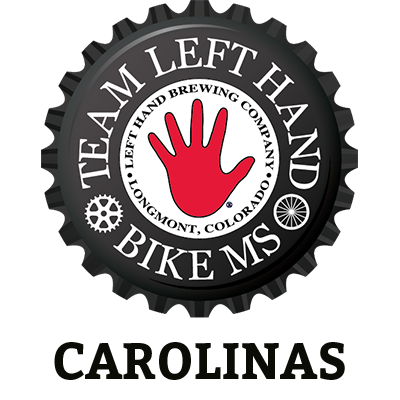 ---
Kickoff Parties, Fundraising Events, Training Rides, and the Big Event!
Events displaying in Eastern Time.
Read all the Team NC/SC Posts or Fundraising Tip Posts!
---