Team Left Hand is a group of employees and friends dedicated to solving the riddle that is Multiple Sclerosis. Our Colorado team started in 2008 and has since grown to nearly 200 riders raising over $2 million in 11 years. We hope you'll join us in 2019 for the ride where it all started! You'll enjoy a fully supported ride through rolling terrain or can tackle the mountain climbs surrounding Horsetooth Reservoir, all while helping Team Left Hand Colorado raise funds and awareness for the millions of people around the world that are fighting the disease today.
Additional Information: 
Bike MS: Colorado presented locally by Anthem is a two-day ride that will take you farther than you've ever gone before. What makes this ride so special? Riders will travel through quaint towns and backroads where they will enjoy rolling terrain or tackle the mountain climbs surrounding Horsetooth Reservoir before ending at Colorado State University in Fort Collins. Each day has multiple route options, all of which are fully supported with stocked rest stops every 10-12 miles and a great lunch stop.

Date: June 29-30, 2019
Start/Finish Location: Front Range Community College Westminster
Fundraising Minimum: $400
---
CO Team Captain Chris Lennert
Team Left Hand CoordinatorSara Barfoot
Donate
---
Sponsor the Team
Contact Colorado Captain

Find the Training Rides & Events Schedule and Alerts, Ride with GPS, and so much more!
Download the app from the App Store or Google play, then Search "Team Left Hand" and select "Team Left Hand Colorado".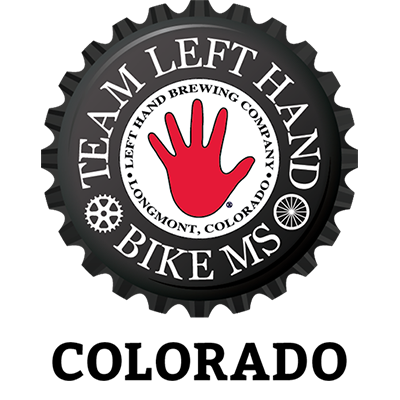 ---
Kickoff Parties, Fundraising Events, Training Rides, and the Big Event!
Events displaying in Mountain Time.
Read all the Team CO Posts or Fundraising Tip Posts!
---