Team Left Hand is a group of employees and friends dedicated to solving the riddle that is Multiple Sclerosis and we're coming back to Texas for our 4th year in 2019! We hope you'll join us for the Valero Ride to the River, a two-day ride through the scenic countryside of South Texas near San Antonio. We'd love to have you as a riding cyclist, a virtual cyclist, or as part of our ever-expanding team of volunteers to raise funds and awareness for the millions of people around the world that are fighting the disease today.
Additional Information:
The Bike MS: Ride to the River, presented by Valero is a fundraising cycling event. This South Texas ride offers cyclists a variety of one-day and two-day ride distances including a 161-mile option. The journey from San Antonio to New Braunfels includes celebrations at the overnight and finish line as well as fun-interactive themed rest stops along the route. Experience the beauty of South Texas and the Hill Country for a Bike MS experience like no other.

Date: October 5–6, 2019
Start Location: Rolling Oaks Mall (San Antonio)
Finish Location: Comal County Fairgrounds
Fundraising Minimum: $300
---
TX Team Captain Steve Kramer Ilene KramerCisco Iguaran
Team Left Hand Coordinator
Sara Barfoot
Donate
---
Sponsor the Team
Contact Texas Team Captain

Find the Training Rides & Events Schedule and Alerts, Ride with GPS, and so much more!
Download the app from the App Store or Google play, then Search "Team Left Hand" and select "Team Left Hand California".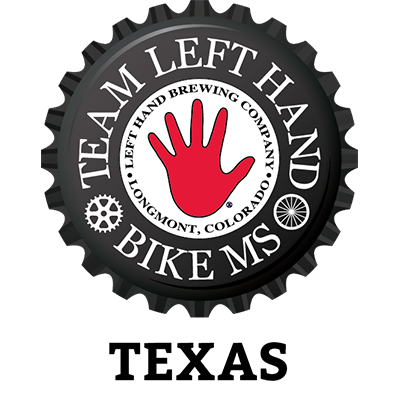 ---
Kickoff Parties, Fundraising Events, Training Rides, and the Big Event!
Events displaying in Central Time.
Read all the Team TX Posts or Fundraising Tip Posts!
---